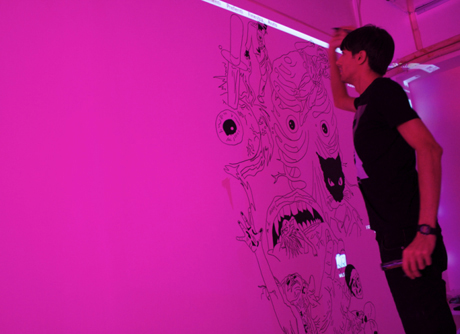 Paolo Danese aka Turbokrapfen is an artist, alchemist and contemporary mystic born in 1983.
Turbokrapfen uses different expression modalities, including drawing, graphic arts, illustration, painting, lecture/performance, infographics, artist's book, as a form of spiritual and artistic research.
According to american artist Paul Laffoley, "The final phase of modernism in the western world began with the year 2000 A.D. and was consummated by September 11, 2001, and will continue for the next one hundred years". His term for this period is the "Bauharoque". "It combined the heroic modernism of the German Bauhaus, with the aspiration toward a technological utopia, and the exalted theatricality of the italian baroque, in which an exuberance of form and illusion serve to express the mystical union of art and life."
In 2015 Paolo started an interdisciplinary art project called "Tales from the 5D Ultraverse", which aims to become a Gesamtkunstwerk (total work of art) acting as a bridge between the newborn consciousness of the Bauharoque era and the fading Postmodern sensibility. Tales from the 5D Ultraverse crosses the barriers between graphic arts, illustration,  painting, sculpture and installation, mixing the classic Turbokrapfen style with the multiplicity and complexity of the artistic experimentation.
The final goal of "Tales from the 5D Ultraverse" is to use the artistic practice as a form of spiritual illumination, opening a portal between the third and the fifth dimension of the Universe, which, according to all the spiritual, religious and esoteric traditions corresponds to eternity and immortal life.
GROUP EXHIBITIONS
2016 The Living Art, Spazio Shed, Schio (VI)
2016 Wunderkammern Uno, CACC-Centro Arte Cultura Cittadella (PD)
2016 Visioni, CACC-Centro Arte Cultura Cittadella (PD)
2015 Oggi è tutto molto strano, CACC-Centro Arte Cultura Cittadella (PD)
2015 Filò, Osteria Scaldaferro, Sandrigo (VI)
2015 Diploma Exhibition, E.Geppert  Art Academy, Wroclaw, Poland
2015 Dialog, Baszta, Wroclaw, Poland
2015  Dwadzieścia cztery oczy – Twenty Four Eyes, Szewska Pasja Gallery, Wroclaw, Poland
2009 Vans Store Opening, Vans Flagship Store, Milano
2006 Display, Le Corti Venete, San Martino Buon Albergo (VE)
2005 Il Male, Villa Manin, Codroipo (UD)
2004 I can't see/From A White Canvas, Cà del Duca, Venezia
2004 Premio Dams, Villa delle Rose, Bologna
BIBLIOGRAPHY/PRESS
2014 MAI+T / Marina Abramovic Institute Tumblr (online)
EDUCATION
2015 Postgraduate Course in Interdisciplinary Printmaking at E. Geppert Art Academy, Wroclaw, Poland
2002-2005 Bachelor Degree in Visual Arts at IUAV, Venice, Italy